Most user developing PHP web apps on a Windows PC uses Either WAMP or XAMPP. Both are free and might be heavy.
Today I will share to you what I use in developing websites portable or on the go. Yes you can put it to your Flash Drive and develop on the go.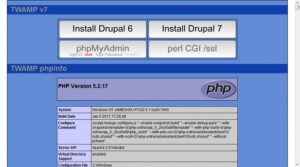 TWAMP Specification
Drupal 6.20 + Drupal 7.0 (also a dual-core XDD)
Built-in latest Traditional Chinese / Simplified Chinese / Japanese language file
Drupal 7 super easy to install (the default DB is installed automatically without manually enter the database name account password)
Fixed installation icon shows errors
Add a separate Drupal 6, Drupal 7 Adaptive Install icon
Fixed installation of Drupal 6 language, do not re-import the language file
Built-in PHP XDebug support UEStudio or PDT eclipse debugging environment (to be manually turned on)
Apache 2.2.17
MySQL 5.1.49-community
PHP 5.2.17
PhpMyAdmin 3.3.9.2
Perl 5.12.3
Add eAccelerator v1_0_svn427 (New version of eAccelerator accelerator, enabled by default)
Update Zend Optimizer 3.3.0 (default enabled)
DOWNLOAD: TWAMPd_v7.03a
Use 7-zip to extract.